These are often visitors to manufacturing facilities under the titles of investigators, inspectors, auditors, consultants, experts, compliance officers, etc. (internal or external to the regulatory agencies). Logically and scientifically speaking, at present, they provide absolutely no useful or valuable purpose for the development, manufacturing and assessment of pharmaceutical products such as tablets and capsules but hindrance, delays and exuberant cost to industry and by extension to consumers/patients. Their observations and conclusions are based on subjective and narrative discussion not on any scientific, measurable or quantifiable assessments. Most often, their outcomes are filled with fancy catch phrases or acronyms such as cGMP, validations, CSV, data integrity (DI), record-trailing, inappropriate SOPs, improper documentation, root cause analysis, CAPA, which in general are book/record keeping (admin/clerical) exercises mostly unrelated to quality of the products and/or quality of the manufacturing. Read the rest of this entry »
Often I visit PubMed site (link) to search for recent articles with search phrase "drug dissolution". On the top right corner of the search outcome a chart appears showing number of articles published on yearly basis for the search phrase. I have reproduced (below) this chart for the years 1970 to 2019. As can be seen from the chart, there is a dramatic decrease in number of publications during the year 2019. This might not be a scientific or statistical conclusion; however, decrease (about 27%) is significant.
There is strong possibility that scientists have lost credibility and relevancy of drug dissolution testing as I have been highlighting for the past number of years in particular through my citizen petition to the FDA in 2018 (link). Going forward, people should take note of this observation and use caution in conducting dissolution tests in particular using USP testers and methods.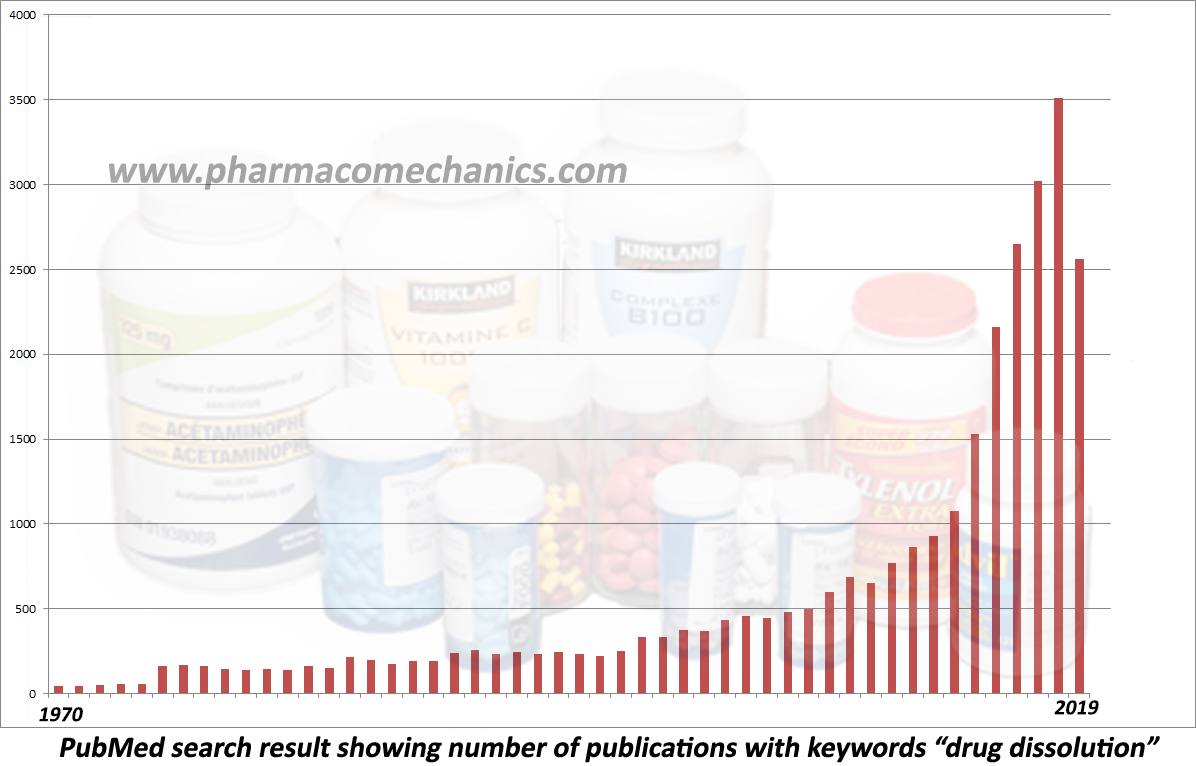 First, it is important to know what the "ills" are. These ("ills") are not usually specific but described by some (inspectors/investigators) from regulatory authorities in particular FDA with observations and statements following facility inspections. These facility inspections are conducted under the requirements of Good Manufacturing Practices or GMP which are usually part of country's laws and regulations giving the practices "authenticity" and enforcement ability. The basis of GMP requirements and implementation is on the fundamental assumption that GMP requirements are enforced so that the end products from manufacturing are of quality, e.g. as per FDA "FDA ensures the quality of drug products by carefully monitoring drug manufacturers' compliance with its Current Good Manufacturing Practice (CGMP) regulations"[1]. Read the rest of this entry »
The main intend of GMP implementation is to ensure that manufacturing facilities are capable of manufacturing quality products. There exists some confusion mostly in the minds of inspectors, and corresponding experts and consultants, that the purpose of GMP is to enforce implementation of standards/specifications (or "compliance") as per the regulations, not the assessment or evaluation of product "quality". This, however, is an incorrect interpretation of the law and regulations. Below are citations from some of the major regulatory authorities defining the GMP, which clearly includes inference to "quality". Therefore, GMP requirements and practices clearly relate to or require establishing the "quality" of the manufactured products.
On the other hand, it is also a fact that at present a scientific and/or enforceable definition/description/criteria for establishing and assessing "quality" of pharmaceutical products, in particular tablet and capsules, is unavailable. Therefore, requirement and practice of GMP at present not only becomes weak but also unenforceable.
In general, scientifically and logically, most outcomes of a facility inspection (e.g. FDA 483s) should be considered irrelevant and invalid in establishing good manufacturing practices as well as reflection on the quality of the manufactured products. Regulatory authorities around the world, including from developed economies, should take note of this serious weakness of the current inspection practices (or law enforcement) which may not pass the test of the laws.
(1) FDA ensures the quality of drug products by carefully monitoring drug manufacturers' compliance with its Current Good Manufacturing Practice (CGMP) regulations. (https://www.fda.gov/drugs/pharmaceutical-quality-resources/current-good-manufacturing-practice-cgmp-regulations)
(2) Any manufacturer of medicines intended for the EU market, no matter where in the world it is located, must comply with GMP. GMP requires that medicines: are of consistent high quality; … (https://www.ema.europa.eu/en/human-regulatory/research-development/compliance/good-manufacturing-practice)
(3) Good Manufacturing Practices (GMP) are the part of quality assurance that ensures that drugs are consistently produced and controlled in such a way to meet the quality standards appropriate to their intended use, as required by the marketing authorization. (https://www.canada.ca/en/health-canada/services/drugs-health-products/compliance-enforcement/good-manufacturing-practices.html).
(4) Good manufacturing practice (GMP) is a system for ensuring that products are consistently produced and controlled according to quality standards. (https://www.who.int/medicines/areas/quality_safety/quality_assurance/gmp/en/)
(5) The Good Manufacturing Practice (GMP) guidelines are a set of regulations that ensure that food, drugs, medical devices, and cosmetics are produced at a high quality.( https://www.news-medical.net/life-sciences/What-is-Good-Manufacturing-Practice-(GMP).aspx)
(6) Good Manufacturing Practice (GMP) is a system for ensuring that products are consistently produced and controlled according to quality standards. (https://ispe.org/initiatives/regulatory-resources/gmp)